03 gifts worth 20 million VND awarded by NOVAON at Economic Talks 2023
On the afternoon of March 4, the Young Entrepreneurs Association of Bac Giang province organized the Spring Meeting Program and the 2023 Economic Talk with the theme "Vietnamese enterprises – Building a foundation – Sustainable future".
This is the biggest annual event of the Bac Giang Enterprise Association, where generations of members meet, exchange talks, share experiences and find solutions to mutual growth. The event attracted more than 150 CEOs from businesses.
Taking on the role of Moderator at the talk show, Mr. Nguyen Minh Quy – Chairman of NOVAON Group, moderated an exchange between guests:
– Doctor / martial artist / businessman Mai Huu Tin, President of U&I Group, President of the World Vovinam Federation, President of Vietnam Entrepreneurs Association, term IV.
– Entrepreneur/ Shark Nguyen Thanh Viet, Chairman of the Board of Directors – General Director of Intracom.
– Doctor/Businessman Luu Tien Chung, Vice Chairman of Vietnam Textile and Apparel Association, Chairman of Bac Giang Provincial Enterprise Association.
🎁 Especially, at the event, Mr. Nguyen Minh Quy gave out 03 valuable gifts to 03 lucky customers. Each gift is a combo of CRM and Marketing Automation software, worth 20 million VND.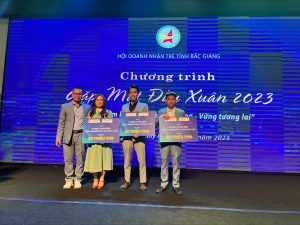 Here, the speakers shared about entrepreneurship, the mission of entrepreneurs towards an innovative Vietnam and aspirations for 2030 and vision for 2045. Vietnamese entrepreneurs, including What should young entrepreneurs prepare for themselves?, how to keep up with global trends of integration and digitization? And skills do young entrepreneurs need to build for themselves to adapt to the constant changes of the constantly changing economy…, vision and difficulties that businesses will face in 2023; What businesses need to do to overcome that difficulty and what does the Enterprise Association need to do to support member businesses in the right direction of economic development of the Government.
>> Experience FREE OnMarketer software right here!

Check out some of the highlights from the show!