VTV | Honoring the leading digital transformation enterprise
Novaon Tech continues to be honored as the leading digital transformation enterprise at the Top 10 ICT Vietnam award ceremony held by the Vietnam Software and IT Services Association (VINASA) on September 10.
Previously, in 2018 and 2020, respectively, businesses were honored in the categories of digital marketing products and potential digital products. In particular, 2022 is a breakthrough year for Novaon Tech when officially recognized as one of the top digital transformation enterprises, with a digital ecosystem of 20 products serving corporate customers.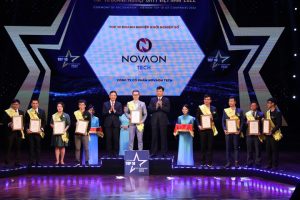 The Novaon Tech ecosystem is divided into 3 main areas including: customer resource solutions, operation management solutions and e-commerce solutions. Outstanding products developed by Novaon Tech include: OnMarketer, OnCustomer, OnCRM, OnPeople, OnSign, OnWork, OnShop, etc. These products are highly applicable and trusted by thousands of businesses. This is the reason why Novaon Tech won the Top 10 ICT Vietnam award 3 times.
>>> Try OnMarketer software for FREE

The Top 10 ICT Vietnam Award in 2022 is one of the clearest examples of Novaon Tech's success in the field of digital transformation. Previously, this brand was honored at the following awards: Best Solution Awards 2021, Sao Khue Award, Top 50 Vietnamese Startup 2022, Top Industry 4.0 Vietnam 2022…