VnMedia | Novaon Tech receives the Top Industry 4.0 Vietnam 2022 award
On July 15, 2022, Novaon Tech achieved an award in the category of 'Top Enterprises with Smart Digital Products and Industry 4.0 Technology Solutions' at the First Vietnam Industry 4.0 Awards Ceremony, 2022.
Initiated in 2022, the Vietnam Industry 4.0 Awards is organized by the Vietnam Union of Science and Technology Associations (VUSTA) in collaboration with the Vietnam Automation Association (VAA) and the Institute of Creativity and Digital Transformation (VIDTI). The awards aim to honor outstanding digital transformation achievements of organizations/companies that have made significant contributions to the country's science and technology achievements, promoting the digital economic development of Vietnam. 
Despite being their first year of participation, Novaon Tech, with its strength, was honored to be recognized at the awards ceremony. This is a testament to the persistent efforts of the Novaon Tech team in the journey of researching and developing comprehensive digital transformation solutions for businesses. It also reaffirms that the Novaon Tech brand is increasingly building trust and credibility in the market."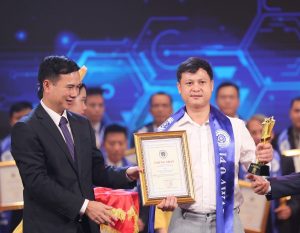 "Prior to receiving the Top Industry 4.0 Vietnam 2022 award, Novaon Tech had achieved consecutive awards, solidifying its reputable position, including the Best Solution Awards 2021, Top 50 Outstanding Growth Enterprises in Vietnam (Fast500) for three consecutive years (2019, 2020, 2021), Sao Khue Awards for three consecutive years (2019, 2020, 2021),… These initial achievements have also paved the way for Novaon Tech to strive for prestigious awards such as the Vietnam Digital Awards 2022, and the Top 10 Vietnam ICT Enterprises 2022.
The platforms within Novaon Tech's 'Make in Vietnam' digital ecosystem, which won the I4.0 Award 2022, will serve as the core solutions supporting businesses in addressing challenges related to Customer Resources, Operational Management, and E-commerce. Notable software includes: OnMarketer, OnCustomer, OnCRM, OnPeople, OnSign, OnWork, OnShop,…