BRANDVN | Vietnam Agency won at Meta Agency of the Year 2022 thanks to the power of Conversational Marketing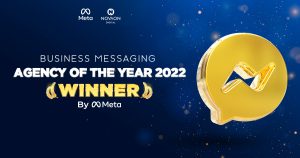 On August 3rd, 2022, Meta announced the Business Messaging: Agency of the Year 2022 Award. In which, Novaon Ads – a member of Novaon Digital was honored to be Vietnam's first company successfully achieved the prize.
Meta Agency of the Year 2022 is the award that well recorded the integrated creativity and innovation of Novaon Ads in strategy planning and execution. This award not only recognizes the professional achievements of Novaon Ads in particular but also demonstrates the success of Novaon Digital in general after a strong internal transformation, to create comprehensive brand experiences for customers.
Capture the brilliance of Conversational Marketing
According to Meta's survey, 73% of Vietnamese consumers adopt business messaging to approach brands. ~40% of Vietnamese Consumers mentioned they increased how often they chat with a Business. 1 in 3 Vietnamese Consumers surveyed chat with Businesses at least once a week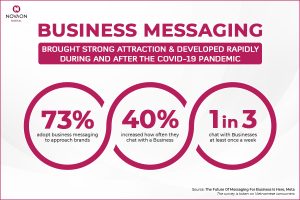 Messaging is a popular communication form chosen by many Vietnamese consumers. Sending and receiving messages is a vital part of their buying journeys.
From consumers' behavior, Business Messaging brought strong attraction and developed rapidly during and after the COVID-19 pandemic.
The change in user behavior leads to the formation of many social trends, which gives adaptive requirements for marketers to address.
· Customers need more private and better information-secure conversations.
· Customers need to be taken care of timely responses, provided by the right information according to their needs.
· Messaging services need to get involved at the right touchpoint at the right time.
· From there, enterprises can quickly exploit the specific behaviors and information of customers, increasing its conversion rate.
Novaon Ads realized the potential to solve the above observations when it had access to the Messaging Platform, including the Meta Business Messaging tool.
Currently, Conversational Marketing is a method to closely connect the relationship between consumers and businesses. This marketing application is based on elements of modern technology. Conversational Marketing appears to be the formation of business-to-customer conversations via messaging (or chatting) platforms.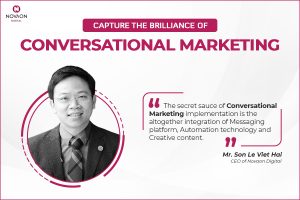 Instead of communicating with customers in the traditional way as before, through chat messages, enterprises can easily connect and approach customers to give them the best service experience, from which increase the brand's conversion ratio.
In the process of upgrading customer experience, Novaon Digital always looks for new solutions, applies more technological elements, and creates attractive content to maximize efficiency in bringing the most positive experience for customers.
The best practice of Business Messaging that every brand should know
For the past 3 years, according to Novaon Ads, agencies need to especially pay attention to promoting the application of Conversational Marketing, improving based on the foundation of 3 approaches:
1. Flexible use of Messaging Platforms including Business Messaging, update the latest information about Messaging Platform to propose to customers.
2. Maximize the effective application of automation technologies such as NovaonX Chatbot with Messaging Platform, to bring a seamless experience for customers.
3. Continuously creating and diversifying Creative Format in rich content and materials for Messaging Platforms.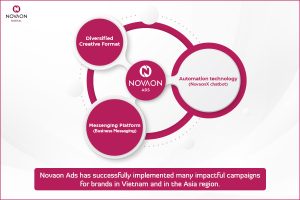 From these three approaches, Novaon Ads has successfully implemented many impactful campaigns for brands in Vietnam and the Asia region.
It can be seen that, in the journey of digital transformation of customer experience, the application and upgrade of new tools are crucial. Therefore, innovative technology stacks of Novaon Ads and the Meta team, such as Business Messaging tools will help brands closely approach and better understand their customers.
Winning prestigious awards would be a record for the efforts of Novaon Digital's and Novaon Ads creative team. This is also the motivation for Novaon Digital to constantly exploit the power of Strategy – Technology – Creativity and Innovation, developing effective solutions for future marketing and communication campaigns. Therefore, creating comprehensive brand experiences, especially in the context of digital technology.
The Business Messaging: Agency of the Year 2022 award once again encourages Novaon Digital to become a trusted strategic partner of enterprises, one of the best customers' picks in each campaign and in long-lasting brand building journey.
—
About the Agency Of The Year Award 2022 Meta Agency of the Year is an award from Meta, recognizing the creative application and innovative combination of agencies and businesses that have made impressive contributions to Marketing industry. In 2022, Novaon Ads is a media agency in Vietnam receiving the Meta Agency of The Year award in the Business Messaging category. About Novaon Ads Novaon Ads (ROI-Driven Media Agency) – a member of the Novaon Digital ecosystem. Novaon Ads is a Media Agency that provides an optimal experience of Digital Marketing performance on advertising channels. Learn more about successful brand experiences: here