ICT News | NOVAON Achieves Top 32 Ranking Among the 500 Fastest-Growing Enterprises in Vietnam
With evaluations from the appraisal council and reputable experts, NOVAON achieved a top 32 ranking in the FAST500 list for 2019, earning the title of the fastest-growing enterprise in Vietnam.
At the recent official announcement and honoring ceremony of the FAST500 ranking for 2019, organized by Vietnam Report Joint Stock Company and VietNamNet newspaper, NOVAON secured the Top 32 position among the 500 fastest-growing businesses in Vietnam.
The rankings of businesses in the FAST500 list are determined based on criteria such as Compound Annual Growth Rate (CAGR) in revenue and the business efficiency over the last four years. Additionally, factors such as total assets, total workforce, post-tax profits, and the company's reputation in the media are also used as supplementary elements to define the scale and position of the enterprise within the industry.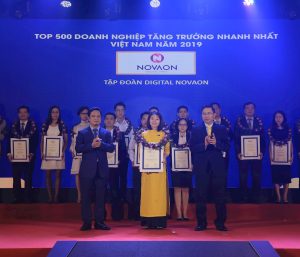 Inclusion in the FAST500 ranking for the year 2019 signifies the presence of enterprises that are consistently explorative and innovative in their business operations, capitalizing on growth opportunities and contributing significantly to the overall development of the domestic economy. Securing the 32nd position among the 500 enterprises on the FAST500 list for 2019, NOVAON Group has demonstrated rapid and sustainable growth. With 13 years of experience, NOVAON Group operates across three main areas: Digital Marketing, Adtech, and Digital Transformation. Currently, NOVAON comprises 6 subsidiary units and employs 500 professionals across 5 Southeast Asian countries.
Sharing her thoughts at the event, Ms. Nguyen Thi My Dung, Business Director of NOVAON ADS Saigon, stated: "We are deeply honored to rank 32nd on the FAST500 list. To achieve this accomplishment, we have received the support and partnership of over 50,000 business clients in Vietnam and the region. We consistently strive to create better products and services, delivering greater value to our customers and to society."
As the largest Google partner in Southeast Asia, NOVAON Group also ranks among the top 50 largest technology enterprises in Vietnam and the top 10 Industry 4.0 technology enterprises, as voted by Vinasa (Vietnam Software Association).