NOVAON awarded the Top 10 Digital Marketing 2020 prize
On the evening of December 14, 2020, in Hanoi, the Vietnam Software and IT Services Association (Vinasa) organized the Announcement and Recognition Ceremony for the Top 10 IT Companies in Vietnam 2020. During the announcement ceremony, NOVAON had the honor to receive the Top 10 Digital Marketing Company award.
With 15 years of experience, NOVAON is a leading entity in Vietnam and the Southeast Asia region for Digital Marketing services. Novaon Ads (a member of NOVAON) is a consultancy and implementation entity for comprehensive digital marketing solutions for many leading corporations in Vietnam, including Thaco, Toyota, Vietnam Airlines, Vingroup, The Gioi di dong, Kinh Do, Hoa Phat, Bitexco, Vietinbank, Vpbank, and more. Novaon Ads has been a pioneer in applying technology intelligence to digital marketing activities, bringing strong and comprehensive digital transformation to businesses with the goal of enhancing business efficiency and cost-saving operations for customers.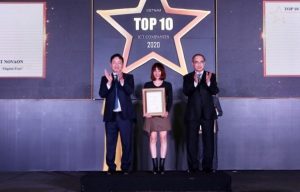 At the recognition ceremony, Ms. Hoang Thao – COO of Novaon Ads, stated: "2020 was a challenging year for all businesses both domestically and internationally. NOVAON is honored to have achieved the Top 10 Digital Marketing Companies award. This recognition acknowledges the efforts and achievements of NOVAON during the 'COVID' year in all aspects: growth rate, service revenue, profitability, human resources, and market share. With our reputation and practical implementation experience for many large corporations, we have been and will continue to provide the best solutions to support businesses reaching international standards in the digital marketing field."
The Top 10 IT Enterprises in Vietnam was previously the Top 50 leading IT enterprises in Vietnam award, an annual award organized by the Vietnam Software and IT Services Association (VINASA). With innovation in the award, this year's competition was recognized as more competitive due to the increased number of participating entities. Although divided into 15 categories, each category selected only 10 outstanding individuals based on stricter assessment criteria including growth, revenue, profitability, human resources, market share, technological capability, and most importantly, the company's social responsibility activities.
It's worth mentioning that NOVAON is increasingly solidifying its position as a leading group in Vietnam's digital economy, with 10 technology platforms serving over 87,000 customers. In 2020, NOVAON ranked 8th among the 500 fastest-growing enterprises in Vietnam (Fast500).