NOVAON Group, in collaboration with AUSTDOOR Group, has initiated a digital transformation project for the Customer Resource Management system
On May 25, 2021, NOVAON Group and AUSTDOOR Group held a signing ceremony for the "Initiation of the Customer Resource Management (CRM) System Digital Transformation Project." This project is part of Phase 2 in the overall digital transformation strategy of AUSTDOOR Group.
In their strategy for the period up to 2025 and vision towards 2030, AUSTDOOR Group demonstrates its digital transformation ambitions by focusing on integrating digital transformation into business operations and manufacturing activities. This involves utilizing software solutions for resource management such as ERP systems (SAP, E-Office, etc.) to optimize management and operations processes. Additionally, AUSTDOOR aims to further develop digital technology applications by connecting their dealer and customer systems for product and service offerings, sales programs, branding, and more, in order to enhance the customer experience. However, this integration will still need to be synchronized with AUSTDOOR's existing management systems.
Novaon is a company with extensive experience in advising and implementing digital transformation solutions for 95,000 businesses, offering 10 platforms and over 20 "Make in Vietnam" digital products. With its wealth of experience and diverse digital technology products, Novaon has assisted Austdoor in solving digital transformation challenges in their business operations. Novaon has provided two solutions to support multi-channel interaction management: Onshop OmniHub and Omni-channel CRM. These solutions aim to manage customer relationships and interactions effectively in the context of Austdoor's production and business activities.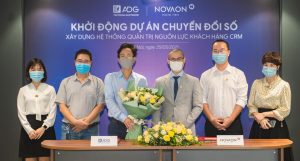 When implementing the Onshop OmniHub solution in the digital transformation of the dealer system, each of Austdoor's dealers will be provided with an Omni-channel Ecommerce system, which includes multi-channel e-commerce capabilities from websites, social media platforms, and various sales-support applications. The application of digital technologies will enhance dealers' capabilities in digital marketing, e-commerce, and multi-channel sales system management, thereby boosting their competitive edge and sales performance in the digital era. Additionally, the Omni-channel CRM solution is a comprehensive customer resource management system built upon a CRM platform, focused on centralized data and customer relationship management. An intelligent call center system will support CRM in customer communication through telephone channels, featuring anti-spam functionalities, call scheduling, intelligent call forwarding, and more. Furthermore, the OnCustomer platform, dedicated to customer experience management, aids in overseeing interaction quality with customers across various touchpoints (over 10 online and offline communication channels such as phone, website, Facebook, Zalo, etc.). OnCustomer also provides a CX Automation solution to automate certain customer care processes, ensuring high-quality service and maximum customer satisfaction.
The solution to align the new digital technology system with Austdoor's existing system was addressed by Novaon through the Single Sign-On method – Novaon ID, a centralized user management system. This allows Austdoor's employees to use a single account to access all provided software solutions. Furthermore, Novaon's platforms are seamlessly integrated with each other and with Austdoor's ERP system through a continuous data integration axis (ESB). Additionally, Austdoor's Austcare warranty and repair team will be equipped with a dedicated smartphone application to manage the entire process and quality of post-sales services directly to individual customers.
Mr. Dương Quốc Tuấn, Chairman of Austdoor Group, stated: "In the next 5 to 10 years, Austdoor Group identifies digital transformation as a core strategy to enhance management capabilities, competitive edge, and drive organizational development. After the implementation of ERP solutions, building the Customer Resource Management (CRM) system is the next step that will help Austdoor enhance and strengthen its operational efficiency. This contributes to providing superior customer experiences and creating better methods for consumers to choose products and services."
The project to develop the Customer Resource Management (CRM) system for Austdoor Group will be implemented over a period of 5 months. In the subsequent phase, Austdoor Group plans to execute the digitization of Big Data and create innovative business models. The digital transformation initiative of Austdoor Group aims to enhance the organization's capabilities while also contributing to the broader digital transformation within the construction materials industry. This milestone marks the collaboration between NOVAON Group and AUSTDOOR Group in the Customer Resource Management system digital transformation project.