Novaon offers 30% discount for members participating in the March 4th, 2023 Business Connection workshop
On the morning of March 4th, "Industrial Park Business VBC Connect" Club held a workshop titled "March 23, 2023 BUSINESS CONNECTION".
The program, with the participation of speaker Nguyen Minh Quy – Chairman of NOVAON Group, is an annual activity of the club and attracted more than 60 CEOs from business units.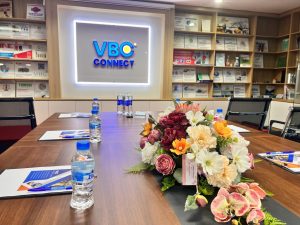 At the program, Mr. Nguyen Minh Quy had the opportunity to share his enthusiasm on the topic of "SOLUTIONS TO SUSTANTATIVE REVENUE GROWTH". With experience in business management and operation, Mr. Quy analyzed and offered 6 groups of solutions to help increase revenue.
📌 SPECIAL: Novaon offers a 30% DISCOUNT of Novaon Tech's product and service packages.

Applicable products and services:

OnMarketer – Marketing Automation Platform

OnCustomer – Multi-channel customer care, sales and management solution

OnCRM – Unified Customer Management Solution

OnSign – Electronic Contract Application

NovaonX Chatbot – Chatbot and vending tool

Facebook advertising service, Google advertising service (preferential service management fee)

Virtual click blocker – Tool to block click hackers on ads, optimize Google ads

Subjects of application: Individuals who have attended the workshop and are new customers (has never used any Novaon Tech products or services)

Offer is applied when deployed in March 2023
Through useful, practical and equally attractive sharing, members have gained more insights, creating a stepping stone in growth strategy and revenue breakthrough. The sharing session received enthusiastic contributions from the participants with questions, which opened up many new topics.
>>> Try OnMarketer software for FREE 

Besides, there are moments of exchange, exchange of experiences directly from all participants.
And now, let's look back at some memorable moments of this Workshop with Novaon!