NOVAON provides Customer Experience Management solution for Cen Homes
NOVAON has officially signed and initiated a project to provide an Online Customer Experience Management System for Cen Homes. The consulting and implementation of this project is carried out by OnCustomer, a division of NOVAON.
In the post-COVID-19 market context, most activities in the real estate market have stagnated, and property transactions have entered a state of "hibernation." The challenge for real estate businesses is to digitally transform their operations to adapt to this changing landscape.
Cenhomes.vn, the real estate technology platform of CenLand, has been at the forefront of changing the real estate transaction market in Vietnam by applying modern technologies such as virtual reality (VR), artificial intelligence (AI), Big Data, online valuation, etc. to analyze and capture market trends. It provides accurate information to support customers to the maximum extent possible.
Ms. Nguyen Quynh Mai, CEO of Cen Homes, shared: "As a pioneering platform in the Proptech field in Vietnam, Cen Homes considers the application of technology to enhance customer experience as essential. Therefore, Cen Homes has chosen the OnCustomer platform from NOVAON to implement the customer experience management system with the goal of enhancing customer experience, improving sales efficiency, and customer care. This collaboration promises to elevate real estate transactions on the digital platform to new heights."
OnCustomer provides 4 solution groups with 15 subsystems, creating a comprehensive customer experience management system. Among them, Cen Homes and OnCustomer will focus on 3 core aspects: multi-channel communication integration, analysis & retention of customer activity history, and intelligent customer communication assistant (Assistant Bot).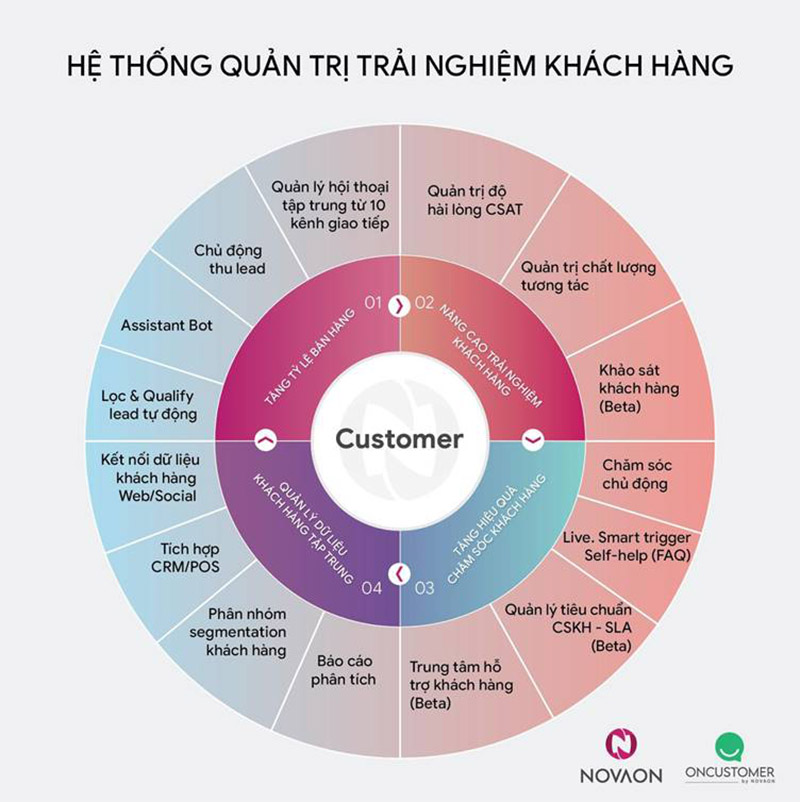 OnCustomer connects 10 customer communication channels (Website, Facebook, Zalo, Youtube, etc.) and consolidates all conversations and customer data onto a real-time dashboard. Conversations are automatically divided among staff based on needs, functional groups, geography, etc. This aids in accurately identifying customer needs, accelerating response times, enhancing sales capabilities, and increasing customer satisfaction. Centralizing customer data into one focused repository also lays the groundwork for the application of AI and Big Data for personalized customer care by Cen Homes in the upcoming phase. 
Despite dealing with hundreds of thousands of customers, Cen Homes places a significant emphasis on high-quality consultation and personalized communication. This is due to the fact that helping customers choose suitable real estate or houses is a process that requires a high level of expertise in consultation. OnCustomer provides the Assistant Bot solution, an intelligent chatbot on the website, the first of its kind in Vietnam, for 24/7 consultation and marketing support. The Assistant Bot initiates conversations based on customer behavior, aligning with their specific interests. It acts as a sales and customer care specialist, answering and advising on various inquiries. This ensures completeness, clarity, transparency, and alignment with the needs of both sellers and buyers when using the platform. 
The awareness of customer experience is continually increasing. However, not many businesses possess a measurement system to accurately capture service quality indicators. These indicators include response speed, response time, Customer Satisfaction (CSAT) score, lead conversion rate, etc. The comprehensive customer experience management system allows measurement and analysis of all these indicators, providing accurate and real-time insights for administrators. This aids in data-driven business decisions and enhances accuracy and speed in decision-making.
Mr. Nguyen Minh Quy, Chairman of NOVAON, mentioned: "NOVAON is honored to accompany Cen Group in the Cen Homes customer experience management system project. We believe that, after implementing the comprehensive OnCustomer system, Cen Homes will experience rapid development in enhancing customer experience and satisfaction, leading to exponential growth." 
It is worth noting that NOVAON is transforming into a leading technology conglomerate with a digital ecosystem consisting of 10 "Make in Vietnam" digital platforms serving over 87,000 businesses. NOVAON also ranks among the top 10 fastest-growing companies in Vietnam (Fast500) in 2020.