Novaon Tech and Bach Tuong Phat kick-off CRM and CDP systems
Kick-off ceremony to deploy CRM & CDP systems between Novaon Tech and BTP Holdings was successfully held at Diplomatic Corps Area, headquarters of BTP Holdings on this afternoon (December 7).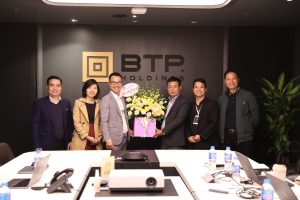 After 20 years of development, Bach Tuong Phat realized that their business was facing difficulty in managing customer resources and had not found the optimal solution to increase the conversion rate and increase revenue. Recognizing Bach Tuong Phat's problem, Novaon Tech proposed a CRM and CDP platform, supporting BTP Holdings in effectively managing customer and business resources to optimize operational processes, optimize costs and increase revenue to achieve outstanding growth.
Novaon is proud to bring a suite of customer management and revenue growth solutions to Bach Tuong Phat Group (with famous brands such as Poongsan, Boss, Hawonkoo, Junger…):
Marketing Automation supporting Increased Conversion Rate
Experience management supporting Increased rate of returning customers (Retention Rate)
360 degrees Customer data management (Customer 360 Profile)
With the strength in product quality and experience in implementation and operation for more than 95,000 customers, Novaon Tech is always ready to accompany and support Bach Tuong Phat on the path of development and digital transformation of operations management. Comprehensive customer resources. Representatives of the two sides actively shared the backlogs, limitations as well as strategies and directions for implementing CRM & CDP systems in the future so that the cooperation between Bach Tuong Phat and Novaon Tech would go smoothly.
>>>  Experience FREE OnMarketer software right here!