Novaon Tech launches special promotion for Lunar New Year 2023
From December 19, 2022 to February 10, 2023, Novaon Tech launches a duo of "awesome" incentives to support businesses and accelerate sales.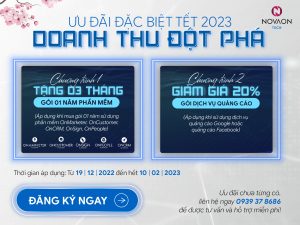 In order to support businesses and boost sales at the end of the year, Novaon Tech has launched an unprecedented Lunar New year 2023 promotion. Accordingly, businesses will receive Novaon Tech's special incentives as follows:
1. Promotional events include:
1.1. Event 1: SOFTWARE DEAL
Get 03 MONTHS FOR FREE immediately upon signing up for a 1-year package of OnMarketer, OnCustomer, OnCRM, OnSign, OnPeople software.
1.2. Program 2: PRIVATE ADVERTISING SERVICES
20% OFF for Customers who sign up for Google advertising services or Facebook ads.
2. Conditions for receiving incentives
Customers register to use software and services of Novaon Tech
3. Application period
Offer is valid from December 19, 2022 to February 10, 2023
For more information about the promotion, please call the hotline 0939 37 8686 for the fastest support and advice.
Sign up today so you don't miss out!
> Experience FREE OnMarketer software right here!