Novaon Tech Releases Wood Industry Digital Transformation Report 2022
On September 28, 2022, Novaon Tech officially released the "Report on the status of digital transformation of the wood industry 2022" with the support of the Ho Chi Minh City Fine Arts and Woodworking Association (HAWA). The report provides important information and solutions to solve difficulties for Wood businesses in the process of comprehensive digital transformation.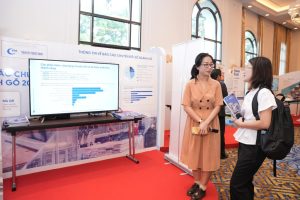 Previously, on September 23 at the conference "Digital transformation of the Wood industry – Smart production and sustainable development" with more than 150 CIOs of Wood enterprises, the "extract" of the report was introduced and received much attention from the business community through objective and comprehensive indicators.
According to Mr. Nguyen Minh Quy – Chairman of Novaon Group: "With experience working with hundreds of manufacturing enterprises in Vietnam in general and the wood industry in particular, digital transformation is an urgent activity that is encouraged and prioritized. 75% of businesses said that in the next 1-5 years, digital transformation will be the catalyst that strongly affects the core competitiveness of businesses. In the two years of Covid, digital transformation helps wood businesses reduce costs by 10%, grow by 10-20% in revenue and increase labor productivity by more than 20%.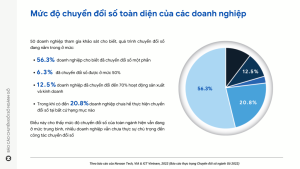 However, the level of digital transformation of the wood industry is still at a low level, when 20% of businesses have not yet performed digital transformation of any item, more than 56% of businesses have only partially converted and only 4. 2% of businesses have digitized the entire process. There are 3 reasons for this: Large initial cost, Technology capacity and human resources not yet able to meet digital transformation, Lack of professional partners, capable of consulting and providing viable solutions. In addition, two items of special interest to businesses in digital transformation are production management and human resource management, which are the two factors that most affect the performance and operation of enterprises. 
>>> Try OnMarketer software for FREE

According to Mr. Quy, up to 54.2% of enterprises have not yet implemented any digital transformation activities in human resources, 25% of enterprises have used human resource management software but still need to upgrade features. This is a disadvantage that causes the labor force in the industry to fail to reach its full potential. Also according to the report, businesses are facing many difficulties in personnel issues such as difficulties in recruiting and retaining employees, rapidly increasing salary costs, low human resource efficiency, and human resource management. manual – consuming time and resources.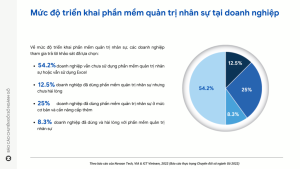 According to the report, most enterprises are facing three main problems in production: Inefficient production, indeterminate stage of defective products, and difficulty in making a production and production resource plan. Using a variety of papers, different tracking files. While the hurdles are visible, more than 72% of enterprises have not yet applied production management software to their operations. Although the Wood industry is a manufacturing industry with high requirements for quality management, the rate of software application in management is at a low level.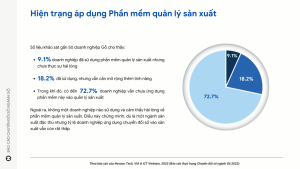 The report on the transformation of the wood industry in 2022 is produced by Novaon Tech, Vietnam Internet Association and Vietnam ICT electronic newspaper, published with the support of the Ho Chi Minh City Fine Arts and Woodworking Association (HAWA). . The report is an affirmation of the common goal of Wood businesses wishing to digitalize to optimize costs and increase labor productivity.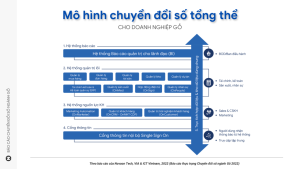 To view and download the Wood Industry Digital Transformation Status Report 2022 (extract), please visit this link.