Novaon Tech wins at Vietnam Digital Awards 2022
On October 9, 2022, Novaon Tech won the award at the "Vietnam Digital Transformation 2022 – Vietnam Digital Awards 2022" (VDA 2022) ceremony with a comprehensive digital transformation ecosystem.
Novaon Tech's digital product ecosystem is a project cherished by Novaon President Nguyen Minh Quy since the very beginning, with the desire to build "Make in Vietnam" digital products. The project is Novaon's first "footprint" when entering this billion-dollar technology market.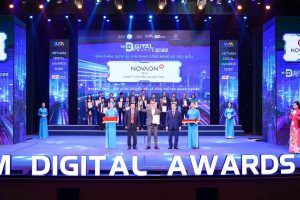 Starting from a purely Digital Marketing business, transforming into the technology field was a bold decision of the President of Novaon, when at the time of 2016 many large technology enterprises were present in Vietnam. With 10 years of experience working with large customers and understanding the needs of Digital Marketing, Novaon Tech has a solid foundation in the formation and development.
>>> Try OnMarketer software for FREE

In 2016, Vietnam was considered a "start-up country" with more than 100,000 newly established businesses, including Novaon Tech. However, up to now, tens of thousands of businesses have failed, but Novaon Tech with the motto "No need to go fast, but have to go far" still exists and develops. From the very first customers, now Novaon Tech has served 95,000 corporate customers and owns 10 platforms and 20 digital products. Currently, Novaon Tech is considered as a leading overall digital transformation ecosystem in Vietnam.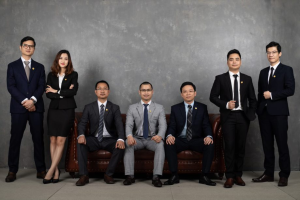 2022 is a successful year for Novaon Tech, when it has achieved a series of noble awards such as Top Industry 4.0 Vietnam 2022 and Top 10 Vietnam ICT 2022 (3 times in a row) and a series of nominations at various competitions. Other prestigious awards: Top 20 Vietnamese Startups 2022.
And recently, Novaon Tech continues to be honored at the Vietnam Digital Awards 2022 (VDA 2022). It is known that this is the first year that Novaon Tech has participated and won 1 in 5 categories of the award. The winning category is Typical Digital Products, Solutions and Technology with the product "Novaon Tech ecosystem" – The total digital transformation solution for businesses.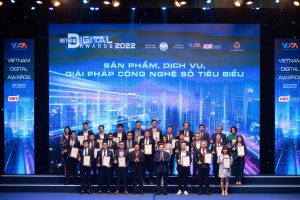 The VDA 2022 award continues to be a strong affirmation of the quality, prestige and trust of customers for Novaon Tech. And Novaon Tech's journey will continue, to complete the goal of building a leading digital product ecosystem in Vietnam and the region.