Novaon Tech's impressive figures from 03 Customer Resource platforms
Impressive figures from Novaon Tech: MILLIONS OF CUSTOMERS have been using 3 platforms of Novaon Tech's Customer Resource group: OnMarketer, OnCustomer and OnCRM.
Novaon Tech's Customer Resource Solutions team provides technology products that help optimize business efficiency, marketing and enhance customer experience.​​​​ The platform inherits a 16-year position from Novaon Digital – one of the units with the largest market share in the digital marketing industry in Vietnam, thereby, bringing customers clear growth benefits for businesses.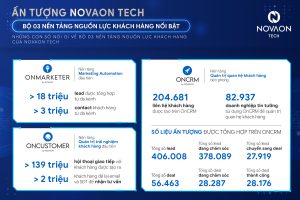 With OnMarketer – the first Marketing Automation platform in Vietnam, Novaon Tech has achieved outstanding numbers through the implementation process with more than 95,000 customers:
More than 18 million leads collected and aggregated from multiple channels
More than 3 million customer contacts after aggregating from multiple channels
OnCustomer – The first customer experience management platform, after 5 years of launching in the market, has achieved outstanding achievements such as:
139,785,494 customer conversations created
2,418,798 customers leave email and phone number to receive detailed advice
OnCRM – The pioneering customer relationship management platform also possesses remarkable achievements such as:
204,681 customer contacts created on OnCRM
82,937 businesses trust using OnCRM in their customer relationship management
In addition, OnCRM also owns HUNDREDS of LEADs and tens of thousands of successful DEALs. Specifically,
Total number of leads on OnCRM:
Total Leads 406,008
Total number of leads taking care of 378,089
Total number of leads converted to deal 27,919
Total deals available on OnCRM:
Total deals 56,463
Total number of deals taking care of 28,287
Total number of successful deals 28,176
To achieve the above impressive numbers, Novaon Tech has made great efforts to build complete and comprehensive technology platforms, bringing tangible effects to customers in terms of revenue growth, optimizing operation management. and costs. The Novaon Tech team is committed to being always ready to accompany our partners and customers to grow on the path of comprehensive digital transformation!
>>> Try OnMarketer software for FREE

About Novaon Tech
Novaon Tech is a leading digital transformation solution provider in Vietnam, belonging to Novaon Group with 16 years of experience in the digital economy. The Novaon Tech digital ecosystem includes 20 technology products, helping businesses digitize their operations and business in a comprehensive way: ​
Customer resources
E-Commerce​
Operations Administration​
On the journey to bring digital solutions to more than 95,000 corporate customers, Novaon Tech deeply understands the difficulties and barriers that businesses face when entering the digital transformation revolution. Therefore, we always research and provide the most suitable solutions for each business. ​
_________
Novaon Tech – A leading digital transformation solution provider
Website: www.novaontech.com
Hotline: 0939 378 686
Email: marcom@novaon.asia
Hanoi office: CIC Building, 219 Trung Kinh, Cau Giay, Hanoi
Ho Chi Minh Office: MB AMC Building, 538 CMT8 Street, Ward 11, District 3, City. Ho Chi Minh City
#Novaon #NovaonTech #NovaonDigital #Chuyển_đổi_số