Portrait of President Nguyen Minh Quy – Outstanding Young Entrepreneur of the Capital 2022
On October 4, 2022, Mr. Nguyen Minh Quy, Chairman of NOVAON Group was honored to receive the Outstanding Young Entrepreneur Award 2022 for his contributions and efforts managing a team of hundreds of employees. at NOVAON.
Outstanding Young Entrepreneur Award 2022 within the framework of "Young Entrepreneurs New Year 2022", awarded by the Ha Noi's Vietnamese Youth Union cooperated with the Hanoi Young Entrepreneurs Association to celebrate the 66th anniversary of the traditional day of the Vietnam Youth Union (October 15, 2022) and the 18th anniversary of Vietnam Entrepreneurs' Day (October 13, 2022).
Mr. Nguyen Minh Quy, Chairman of NOVAON Group was honored to be one of 30 outstanding young entrepreneurs who won the award "Outstanding Young Entrepreneur of the Year 2022", honored at the "Young Entrepreneur New Year 2022 – Glory Night".
The Typical Capital Young Entrepreneur Award is a testament to and recognition of Mr. Quy's efforts in running NOVAON Group, contributing to the growth of Vietnam's economy and society. Mr. Quy has been running the NOVAON Group, creating stable jobs for more than 400 employees, and at the same time, the Group has successfully supported digital transformation for more than 95,000 Vietnamese businesses.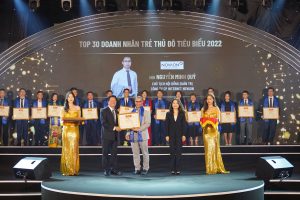 Born in 1983, Mr. Nguyen Minh Quy started his business with the NovaAds brand, specializing in consulting online advertising strategies for businesses in 2006. After 16 years, Mr. Quy has raised the position of NOVAON Group to become one of the leading corporations in the digital economy industry.
NOVAON Group currently owns a digital ecosystem with more than 20 Make In Vietnam platforms, providing digital transformation solutions in key industries: Textile, Wood, Retail, BFSI, Electronics and Real Estate. NOVAON's digital products are highly flexible, adapting to the practical needs of each business. With 16 years of pioneering in the digital economy, NOVAON Group now has more than 95,000 customers, of which more than 200 are large enterprises in the top VNR500.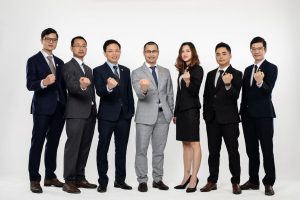 "It took me 5 years to come up with this enterprise digital transformation operating system. Experiencing a lot of pain and suffering, it takes a long time to get such a result," – Chairman Nguyen Minh Quy once stated.
The persistent efforts of Chairman Nguyen Minh Quy is one of the shining examples of the enthusiastic spirit of young entrepreneurs pursuing their passions and ambitions, bringing great values to the Vietnamese economy.
Not sleeping on a win, Mr. Quy continues to set the goal of strong development for NOVAON, becoming the leading digital platform development technology company in Southeast Asia within the next 5 years.
In the process of striving to achieve the set goals, NOVAON Group has achieved a number of accomplishments such as: Top 10 information technology enterprises (Top10 ICT) organized by Vietnam Software and IT Services Association (Vinasa) and Meta Agency of the Year 2022 awarded by Meta. The company is also proud to be a senior partner of Google, Facebook, Tiktok, UiPath or Salesforce, ..
>>> Try OnMarketer software for FREE

Chairman Nguyen Minh Quy and NOVAON Group pledged to commit the mission with the spirit of being ready to accompany thousands of Vietnamese businesses in comprehensive digital transformation.
About the Outstanding Young Entrepreneur Award in the Capital 2022
The award aims to recognize, praise and honor typical young entrepreneurs who have made great contributions to the socio-economic development of the country in general and the capital in particular. This is a solid foundation and launch pad to help NOVAON Group further develop, grow and break through in the future.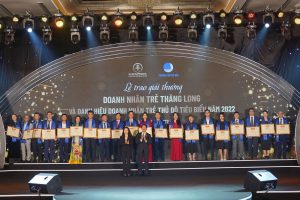 Young Entrepreneurs who receive the Outstanding Young Entrepreneur Award in 2022 are all individuals who contribute to spreading great inspiration, helping the young Vietnamese business community to work harder on the business path. Thereby, arousing a strong entrepreneurial spirit in the young Vietnamese community