The Ministry of Industry and Trade | 4 digital platforms of NOVAON awarded Sao Khue 2021
During the Sao Khue Awards 2021 ceremony, 04 digital platforms within the NOVAON digital ecosystem were honored alongside 182 other products, services, and platforms that received the Sao Khue title this year.
With the mission of the 18th Sao Khue Awards "Promoting digital solution platforms – Pioneering the development of digital ecosystems," NOVAON continues to contribute its 04 leading platforms within the group's digital ecosystem. The judging panel evaluated these platforms as aligned with the government's and Ministry of Information and Communications' direction, laying the foundation for forming digital ecosystems in various sectors and key areas, thus strongly promoting the national digital transformation process.
The 04 platforms of NOVAON that received the Sao Khue Awards are: OnMarketer – A Marketing Automation platform that maximizes website conversions and nurtures leads automatically. Onfluencer – The first CPA-based Influencer Marketing platform. OnSales Caller – An intelligent customer care call center platform. OnCustomer – A multi-channel customer experience management platform.
The OnMarketer, OnSales Caller, and OnCustomer platforms were honored in the category of new software products and solutions. Meanwhile, the Onfluencer platform was recognized in the category of digital startup products and solutions.
Mr. Nguyen Minh Quy, Chairman of NOVAON Group, stated: "The platforms recognized by the Sao Khue Awards 2021 are among the digital transformation solutions that specifically increase revenue for marketing, business, and e-commerce. NOVAON chooses different approaches for its platforms and solutions to deliver the highest return on investment for customers. This will help measure and assess the business's digital transformation effectiveness quickly, setting the stage for subsequent phases of digital transformation."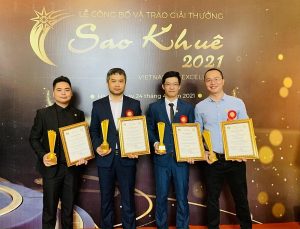 Currently, after 15 years of development, NOVAON is oriented to become a leading technology group in the region with three strategic pillars: Digital Marketing, Digital Transformation, and Global. In this regard, the group has built a digital product ecosystem for enterprise customers, consisting of 10 platforms and over 20 digital products. These platforms are closely interconnected to provide comprehensive solutions for businesses, spanning marketing, sales, e-commerce, and operational management.
With an experienced platform development team in the digital economy, NOVAON has set its mission to accompany the business community in their digital transformation journey through "Make in Vietnam" digital platforms. This enables NOVAON to continually innovate products, solutions, and enhance its competitive edge in the market. In 2021, NOVAON was also selected among the Top 50 fastest-growing companies in Vietnam (FAST500) for three consecutive years.