The panorama of digital transformation among woodworking businesses 2022
Novaon Group and the Vietnam Internet Association (VIA) collaborated to publish the Report on the State of Digital Transformation of the Wood Industry 2022, in order to study the current state of digital transformation applications of enterprises in the industry.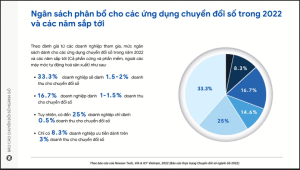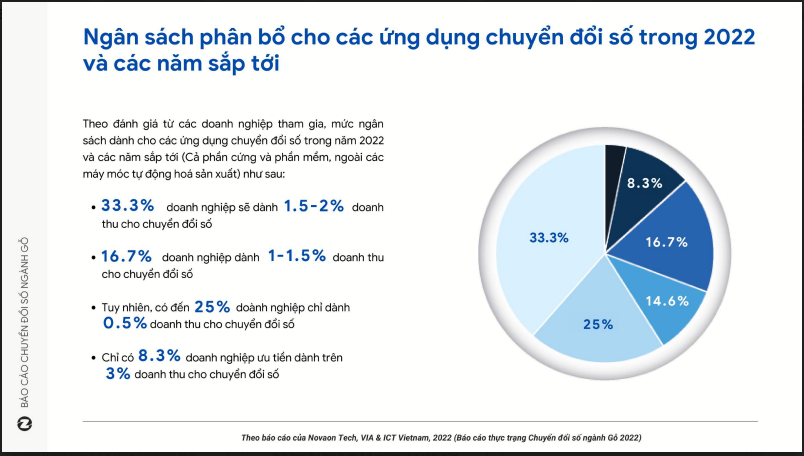 The report showed that only 8.3% of woodworking businesses allocated more than 3% of revenue on digital transformation and up to 25% of enterprises spent only 0.5% on this work. This is an alarmingly low number compared to the general level of manufacturing industries in Vietnam. With a "modest" investment, woodworking enterprises are assessed as not really paying much attention to the application of technology in operation and production. Objective reasons stem from industry and corporate culture. Since this is a traditional industry of Vietnam, there is a slower trend of shifting and updating compared to other industries. Most of the businesses that focus on digital transformation are those with a large number of employees and large revenue in the industry.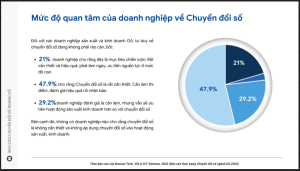 According to research, woodworking businesses are really interested in digital transformation, with nearly 50% of businesses considering this to be a necessity in implementation. No business considers digital transformation as an unimportant and unnecessary item. The vision of industry leaders has been more open and interested in digital transformation and technology application in business operations.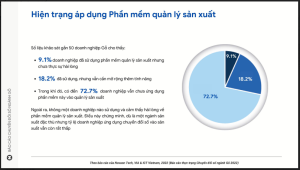 For the manufacturing industry in general, digital transformation is prioritized to focus on core items including: improving operational efficiency, optimizing costs, increasing revenue and streamlining the production system. With a purely manufacturing and processing industry like Woodworking, the quality management stage draws the most attention. However, the application of technology in production management and quality management is at a low level, when 72.7% of enterprises have not applied any software to this activity.
Why have businesses yet to implement Digital Transformation?
According to testimonies from businesses, digital transformation is a "keyword" that is mentioned a lot in meetings and receives attention from the leaderboard. However, the biggest barrier that makes woodworking businesses still hesitant to change is the relatively large initial cost, with nearly 80% of businesses facing this problem. This is a common problem of all businesses when investing a large budget, but the effect will not come overnight.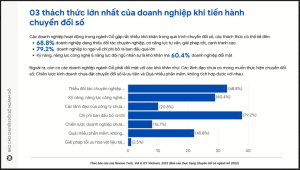 In addition, nearly 70% of businesses are concerned about finding partners providing digital transformation solutions with consulting ability, viable solutions and competitive costs. Enterprises are part of a "matrix" of digital transformation, when in Vietnam alone, there are hundreds of suppliers, platforms and applications supporting digital transformation. Therefore, to find a suitable supplier is relatively difficult when businesses have to evaluate many related factors.
More than 60% of enterprises face the problem of internal staffing not meeting the requirements of digital transformation. The peculiarity of the wood industry, especially the fine art woodworking, requires skilled and highly experienced workers. Therefore, the age of workers is also in the highest age group, this is the group of people who are less exposed to technology and are less likely to change the way they work.
Which direction should businesses take in the "journey" of digital transformation?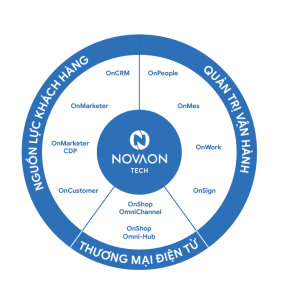 According to experts, for production businesses in Vietnam in general and the wood industry in particular. Currently, digital transformation will not affect businesses much. But within the next 5 years, businesses that do not carry out digital transformation will lose their competitiveness compared to their opponents. Vietnamese enterprises are currently competing with cheap labor sources, but in the near future, this is no longer an advantage.
When completing the report on the situation of digital transformation of the Wood industry in 2022, the research team of Novaon Tech and VIA has brought forth a comprehensive set of digital transformation solutions dedicated to manufacturing enterprises in general and the Wood industry in particular. The solution suite focuses on 3 main categories including: Customer Resources, Operations Management and E-commerce.
For customer resources, applications like OnCustomer will help businesses communicate with customers intelligently, reducing operating costs and increasing professionalism. Or OnMarketer will help businesses reach customers effectively, nurture potential customers.
Manufacturing businesses will be interested in applications such as OnMess to help manage production systems, warehouses, inventory… OnPeople will increase the experience and retain employees, which is an essential tool especially for manufacturing enterprises. To increase the experience and retain senior staff.
As an enterprise with 16 years of experience in the field of digital transformation technology, Novaon Tech understands the difficulties that businesses are facing. The set of solutions will be the "key" to help businesses apply the most complete and comprehensive digital transformation!
>>> Try OnMarketer software for FREE