VN Business | Novaon wins 3 Sao Khue Awards 2020
In 2020, Novaon achieved 3 Sao Khuê Awards with 3 platforms.
After surpassing rigorous rounds of evaluation, out of 186 nominations participating in the selection process, 112 outstanding products and services were awarded the Sao Khuê title in 2020. The Sao Khuê title is an effective tool for businesses to assert the quality and brand of their products and services. This in turn instills confidence in users and plays a crucial role in promoting the usage of Vietnamese products, software, and information technology.
In the category of new technology application products and solutions, Novaon was especially honored to receive 3 Sao Khuê titles for the following platforms: Onshop – Integrated E-commerce Platform, Onsales – Revenue Growth Platform, Onfluencer – Influencer Marketing Platform.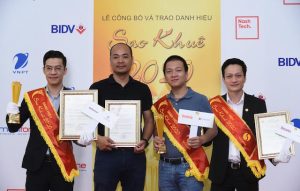 The awarded products and services this year under the Sao Khuê title all belong to Novaon's ecosystem and are highly regarded for their technological excellence, efficiency, market potential, customer needs, responsiveness, security, and the company's brand reputation.
Onshop – The Unified E-commerce platform supports the creation of a sales website within 30 minutes, with an attractive interface, centralized sales management, integrated advertising and multi-channel sales.
Onsales – The revenue growth platform, currently developing Onsales CRM, is a tool that helps businesses manage customers and increase revenue. In particular, the CRM application can help businesses increase revenue and performance by up to 200%.
Onfluencer – The Influencer Marketing platform, proudly a member of the Novaon ecosystem, enhances brand recognition effectively while also meeting the sales target.
With a focus on developing "Make in Vietnam" digital platforms, coupled with the 3 Sao Khuê awards this year, Novaon is contributing to promoting the digital transformation trend in Vietnam's National Digital Transformation Year 2020.